Okay, so the other day, while browsing Instagram, I stumbled upon a really fun blog called 'Life After I Dew.'  (cute title, right?!?)  Anywhoo, she (Shannon) has this thing called 'So What Wednesday' and it's pretty funny.  So, while baby #1 is napping and baby #2 is nursing, I thought I'd share a few things I'd like to say "so what" to.
So what if…
…it took me until noon to brush my teeth today.
…you judge me for taking until noon to brush my teeth today.  (Though, I know…it's pretty sad, right?)
…I dressed my two-year-old and newborn sons in matching outfits twice this week.
…I want to dress them alike again tomorrow.
…I've eaten nearly an entire bag of M&M's since Monday.
…tonight is the first night this week that I'm in charge of dinner…and I'll probably order pizza.
…I got hooked on the Bachelorette this season.  (It's like a train wreck.  I can't. stop. watching.)
…I neglected the mile-high pile of laundry to write this little post.  (Seriously, y'all…it is a mile high.)
…baby N's birth announcements arrived last week and I've yet to get them in the mail.
…I went out to dinner the other night sans nursing pads, started leaking at the table and had to stuff my bra with little squares of toilet paper.
…I caved and started letting G play with the iPad while dining out.  (Trust me, if you were sitting next to us during one of his scream-like-a-pterodactyl nights, you'd thank me.)
…I had to Google the word 'pterodactyl.'  Did you know how to spell that one?
Ah.  It feels good to admit to a few…alright, a bunch…of my recent shortfalls.  :-)
If you want to join in the fun, you can find 'So What Wednesday' over at Life After I Dew!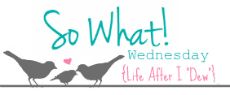 XOXO